Keep Your Remediation Projects on Schedule by Working with a Contractor Who Anticipates Your Needs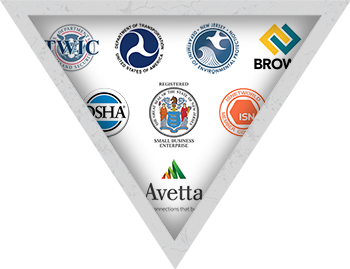 AWT proactively maintains a broad matrix of licenses and certifications enabling us to perform our diverse array of services in a variety of different environments. We recognize that maintaining a wide range of qualifications allows us to respond quickly to your environmental remediation needs and hit your project timeline targets with a high rate of consistency.
Continually growing, our current list of licenses and certifications include:
Underground Storage Tank Licensed – NJ & PA
Licensed Waste Hauler – NJ, NY & PA
OSHA 40 Hour Hazwoper & 30 Hour Construction Trained
Medically Monitored, Drug & Alcohol Tested Crews
Public Works Certified
NJ Registered Small Business Enterprise
ISNet, Browz & Avetta Prequalified
Home Improvement Licensed – NJ & PA
School Development Authority Certified
Licensed Drillers and Test Borers – NJ, NY & PA
Loss Prevention Safety Trained
TWIC Card Holders
USDOT Registered with MCS 90 Endorsement
Significant Insurance Coverage and Bonding Capabilities
Certificate of Public Convenience & Necessity
Division of Property Management & Construction
Avoid delays associated with contractors getting licensed or certified reactively. Instead, work with a partner who anticipates these requirements and helps you keep pace with the typical time constraints of a remediation project.
Give us a call at 800-732-7701 to discuss your next site remediation, drilling or waste management project. Ask an AWT customer representative for the latest information on our services!