AWT's treatment system division was expanded in 2009 with the acquisition of American Northeastern Contracting.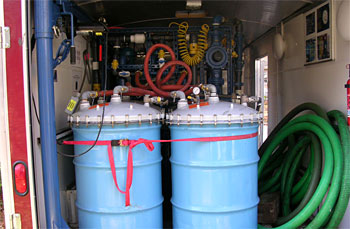 AWT is now a leading regional contracting company that specializes in the installation, upgrade & maintenance of in-situ remedial systems for soil, ground water & subsurface vapors.
AWT's takes your design, along with any recommendations we offer through our hands-on experience, and builds the system to the specifications provided. This includes all the necessary trenching, piping, conduits, etc. in addition to installing the various filters, scrubbers & blowers needed to power the system & treat the media being remediated.
AWT has installed systems on a variety of sites, including retail malls, industrial buildings, warehouses, office complexes, service stations & many more.
What we offer
---
Ground Water Pump & Treat
Soil Vapor Extraction
Enhanced Flow Recovery (EFR)
Air Sparging
Subslab Depressurization / Vapor Mitigation
Private Utility Location / "Soft Digs" / Potholing
System Upgrade, Maintenance & Demolition
Carbon Vessel Changeouts
Loss Prevention Safety (LPS) Trained