AWT approaches every remediation project as unique & provides custom solutions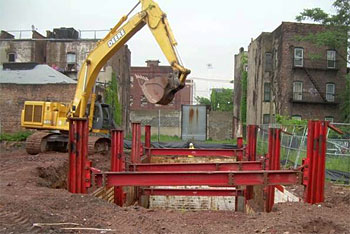 We can follow predetermined specifications & work plans, as well as utilizing our experience to recommend alternative approaches.
Trained, uniformed crews mobilize to each site with the proper equipment & materials, to carry out the remedial design as laid out by engineers & consultants to achieve the goals required by the owner.
Our goal is to return your investment to its proper value – quickly and with minimal complication.
AWT offers a variety of conventional & innovative technologies, often in concert with one another, to remediate various contaminated media including soil, ground water, subsurface vapor, and building components such as concrete, brick, etc.
What we offer
---
Contaminated Soil Removal
Buried Drum Excavation
Landfill Capping & Closure
Surface Impoundments
Plant Closure & Decontamination
Structural Shoring & Underpinning
Grading & Capping
Tank Cleaning & Removal
Treatment Systems Installation
In-Situ Injection
Brownfields Restoration