AWT recognizes that in today's environmentally conscious society, proper waste management is essential.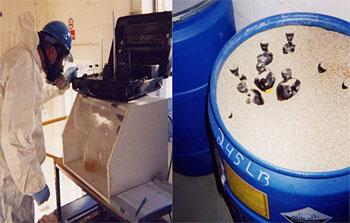 Generators feel secure in knowing that AWT can assist your organization with the intricate web of waste regulations, as well as the hand-on handling, packaging & removal of hazardous and solid wastes at your site.
AWT's lab pack chemists segregate laboratory waste according to chemical compatibility, then package & ship per DOT requirements. Automated manifest preparation & labeling are also provided.
Our ultimate product is a balance between compliance, cost reduction & liability minimization
AWT is thoroughly familiar with RCRA, TSCA & state regulations associated with waste classification, management & documentation & is particularly adept at applying this knowledge to special circumstances, such as remediation.
What we offer
---
Lab Pack Segregation
Bulk Solids & Liquids Removal
Drum Consolidation & Disposal
Soil Recycling & Re-Use
Hazardous Waste Management
PCB Equipment & Oils
Fuels Blending & Incineration
Reactives & Cylinders Deactivation
Low-Level Radioisotopes
Sludge Removal & Disposal
Universal Waste Recycling