This narrative features a land developer buying a distressed property at an old industrial manufacturing site. It's not an uncommon story and one that is expected to continue as New Jersey's late 19th and early 20th century manufacturing plants become increasingly targeted for redevelopment.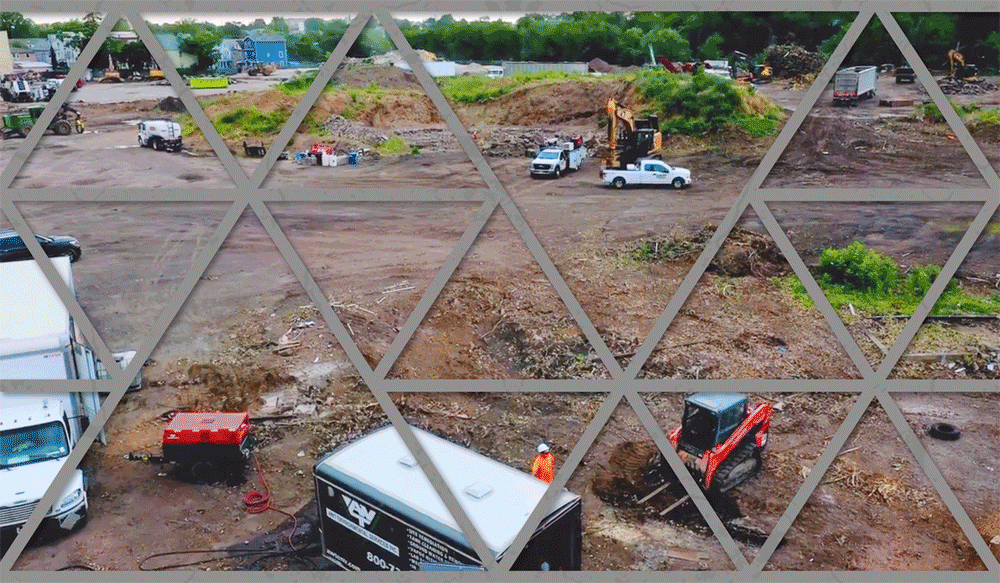 Introduction
As with many projects, the original scope of work became a bit more than expected once the project started. Initially, AWT was to treat chlorinated VOC concentrations found within the site's groundwater and soil with two rounds of oxidative injection. The in-situ injections were to begin pre-construction. Once construction clearing began, AWT was tasked with building injection galleries that would enable post-construction treatment to further mitigate any remaining contaminants. The original approach called for aggressive in-situ oxidative treatment of source area soils and groundwater to be followed by the construction of injection galleries beneath the new structure as it was built to allow for ongoing more passive anerobic treatment of groundwater.
When the project began, however, this plan shifted to a greatly accelerated schedule, shifting goals, and requirements for many additional services soon emerged. Because of AWT's broad range of services and decades of experience, they were able to provide these additional needs without a delay and helped the customer meet their aggressive goals.
Unexpected Challenges
This abandoned site, like many across the Northeast, had experienced years of urban decay. This once thriving varnish coatings plant burned to the ground and was simply buried and leveled. "When we got on site and started work, we were finding foundation slabs and big voids where bits of the old factory were not well mapped," states Baxter Duffy, AWT's Drilling & Injection Division leader. "There were stockpiles of pre-excavated contaminated soil and debris randomly positioned across the property. This made our work more difficult to execute in an economically feasible manner. To increase efficiency, we mobilized excavation equipment and relocated piles to allow for the start of work without delay. We are now halfway through the project and the site is looking much better and running very smoothly."
In addition to the injection work originally scoped, AWT provided:
Removal and disposal of a large amount of stockpiled soil
Removal and off-site disposal of contaminated debris
Rapid response for the excavation of additional hot spots as they were identified, including dewatering operations
Coordination and management of remediation work during active construction development
UST removal and closure
Partners, Results & Next Steps
AWT partnered with Terra Systems who provided the injection material. AWT injected two applications of a ferrous sulfide activated sodium persulfate to knock down the mass of the contaminants. Following two applications, the injection material was changed to an emulsified vegetable oil product to provide a carbon donor substrate to an enhanced reductive dechlorination event in groundwater. The EVO product is a longer lasting substrate to create an extended duration treatment area. According to AWT experts, the first oxidative injections can run their course within weeks. The additional injections of EVO product can be effective for many months and up to a year.
"It's important for us to be experienced with Terra Systems and all of the major materials vendors," states Peter Postorino, President of AWT Environmental. "Our customer's projects include a very wide range of contaminants and geological formations. Because of our broad services platform, we can manage complex projects as well as the many variables that inherently emerge on site. The scope of work we delivered successfully and will continue to provide throughout this project puts us in a rare class of contractors."
The next steps for this project will be ongoing monitoring by AWT's customer and evaluation of the need for post construction remedial actions.
Work With AWT
AWT Environmental Services has supported the environmental industry for over 40 years. Their Drilling & Injection Division is celebrating 12 years of continuous growth. They strive to be the most highly valued environmental services contractor across their growing service regions. Their broad platform of services are supported by some of the most experienced and highly trained people, powerful equipment, and the most current technologies. Few environmental contractors can deliver the same scope of services, depth of experience, and level of quality.
Please share this article with your colleagues and aspiring professionals. Call 800-732-7701 and speak with your AWT account rep or send us an email at estimating@awtenv.com. We can provide an open-minded approach that is the best fit and overall solution for your site
AWT Environmental Services: One Contractor. Many Solutions.